Reimagining Your Transit System — TripSpark's Collaboration With the CTAA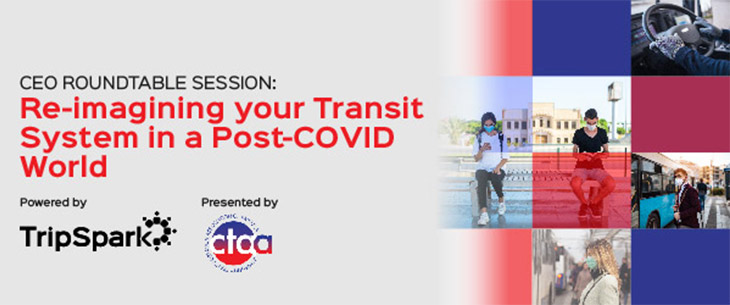 The TripSpark team collaborated with the
CTAA (Community Transportation Association of America)
for a roundtable discussion on Reimagining Your Transit System in a Post-COVID World.
CTAA's Communications Director, Scott Bogren
kicked it off with a look at how transit systems will need to leverage technology to revamp their operations.
"It takes tools and that's what technology is in all of this, it's a tool . . . The essence of who we are, is the strength of our members and the leaders within those systems and the way they approach their operations." – Scott Bogren, CTAA's Communications Director.
In this post, we'll take a brief look at the state of public transit, delve into some important insights from transit executives, and we'll give you a sneak peek into the event.
Watch the video and download the companion guide
Transit — Taking it back to 2019-2020
Public transit was on the upturn over the last few years as agencies were rejigging their operations with advances in technology, making transit more and more appealing. Enter COVID-19 — needless to say, ridership declined radically. With ridership at an all-time low, transit leaders had their backs against a wall and had to make changes — fast.
These changes included:
Lowering service frequency

Temporarily suspending fares

Repurposing staff to avoid furloughs and maintain safety

Frequent sanitizing

Modifying COOPs (continuity of operations plans)
"Everybody was divided into an A and B schedule . . . All the 'A' operators worked for two weeks on, every day, and the 'B' operators stayed at home with full pay. At the end two weeks, they flipped . . . That helped us to react to an overabundance of operators and not have to lay them off or furlough them, but more importantly, we reduced by about half, their potential exposure to COVID on the bus." – Alex Clifford, CEO/General Manager, Santa Cruz Metropolitan Transit District, Santa Cruz, Calif.
How Technology Can Help Your Transit System
In these uncertain times, things can change on a dime. Your transit system must have the right technology to make these changes as painless as possible. From the ability to
work remotely
to maintaining communication with your riders, it is critical to have tools in place. Also, having a deep understanding of your ridership will help you decide on the appropriate
technology you need
to meet your operational goals. For example, some agencies have been moving toward a
microtransit solution
, allowing them to provide more individual transportation options while enhancing their own operational efficiency.
Let's discuss your technology needs
"When I hear people talk about the cost of hosting our scheduling software online versus having that sitting on a server in your building – how integral that is if you were to experience a tornado or a floor or a hurricane, or a pandemic. The cost — you can't quantify that if there's a disaster. In our situation, that's really what made our lives easier from an operations standpoint . . . Get your pandemic plan in place but also make sure your technology is ready." – Brooke Ramsey, Business Development Manager, The Heart of Iowa Regional Transit Agency (HIRTA), Urbandale, Iowa
Key Learnings From Transit Leaders
Our group of transit executives
spoke about enriching insights
they have come across while navigating this unknown territory. Even though 2020 has been an unexpected whirlwind, transit leaders also saw a break in the clouds and discovered some positivity in all of this.
Public Transit — Let's Move Forward
Our goal is to develop
software solutions
that will help propel your operations into the next phase of transit. We appreciate the wonderful knowledge shared by our panel of leaders during our roundtable discussion and we encourage you to share your journeys and strategies with us.