What is ITS Fixed Route Software?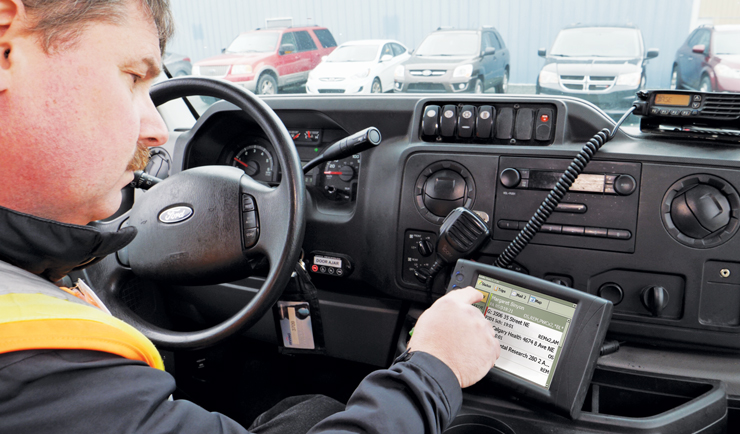 When asked to describe our solution, we usually say it's "scheduling and routing software", "CAD/AVL software" or even "ITS fixed route software". But if you're unfamiliar with the jargon, these descriptors don't do much to dispel the haze. In this post, we'll walk you through what Intelligent Transportation Systems are, the core technology applications and what TripSpark's solution entails.
What are Intelligent Transportation Systems (ITS)?
The Intelligent Transportation Systems Joint Program Office (whew, that's a mouthful) says that ITS is an engineering discipline that "encompasses the research, planning, design, integration, and deployment of systems and applications to manage traffic and transit" and improve efficiency, reliability, safety, sustainability, and user convenience.
Let's break that down.
Some parties involved in fixed route ITS are: government and public institutions (involved in ITS research and planning), public transit agencies (in charge of design, integration and deployment of ITS systems in their fleet) and private solutions providers like TripSpark (who create the ITS technology and sell it to transit agencies). ITS is multi-modal and includes multiple facility types, but we'll only be looking at fixed route applications in this article.
ITS applies information, a variety of technologies and systems engineering principles to monitor, evaluate, and operate all these transportation systems. It considers how the vehicle, infrastructure, drivers and users all interact together in real-time.
A public transportation agency that uses an ITS technology application will have a core suite of technologies that includes, as defined by our friends at the FTA:
| Industry Core Technologies | TripSpark's Solutions |
| --- | --- |
| Automatic Vehicle Location (AVL) | |
| Computer-Aided Dispatch and Scheduling (CADS) | |
| | |
| | |
| Traveler Information / Infotainment System | |
| | |
| | |
| | |
| Advanced Passenger Counters | |
| | |
| | |
For fixed route, the two central technologies are Automatic Vehicle Location (AVL) and Computer-Aided Dispatch (CAD)
What is Computer Aided Dispatch (CAD)?
CAD software allows dispatchers to plan routes, schedules, and detours, as well as manage rostering and trip assignments. It provides decision support tools so they can proactively prioritize and manage delays, service disruptions, last-minute work assignments, sending out a replacement or additional vehicles, or other incidents like speeding or idling. But in the end, it boils down to maintaining service with minimal disturbances.
Dispatchers can send text messages to a single driver, all buses assigned to a specific route or to the entire fleet to reduce radio chatter. They can also push out announcements to the bus's signage or audio announcement system to inform riders of service interruptions.
What is Automatic Vehicle Location (AVL)?
Automatic Vehicle Location (AVL) is operations management software dispatchers use that receives real-time updates from onboard computers called mobile data terminals, which have an integrated Global Positioning System (GPS) receiver and mobile data communications capability. Transit managers can monitor the location of all vehicles in their fleet.
AVL, GPS, and dispatching software are separate technologies, but CAD and AVL work so closely together that they are frequently referred to as a combined CAD/AVL system. Dispatchers who use TripSpark's CAD/AVL system will often use between two and four screens: one showing the AVL map with vehicle locations and others displaying CAD screens with lists of events or driver communications.
CAD/AVL allows transit managers to understand, process, and react to schedule and route adherence (late, early or off-route buses), and monitor headways and current bus loads.
Real-time information from AVL is formatted and dispersed to customers through the passenger information system, available through a variety of mediums including mobile app, website, text messaging, voice calls and email. Customers can see a version of the AVL map with real-time bus locations, look up schedules, routes and service disruptions and request bus arrival times.
Summary
Fixed route / ITS software is a collection of applications that allow public transit agencies to better schedule and manage their buses, while providing up-to-date information to riders.